VUK JOVANOVIC, MD, FACOG
Tree of Life Center, Medizinischer Direktor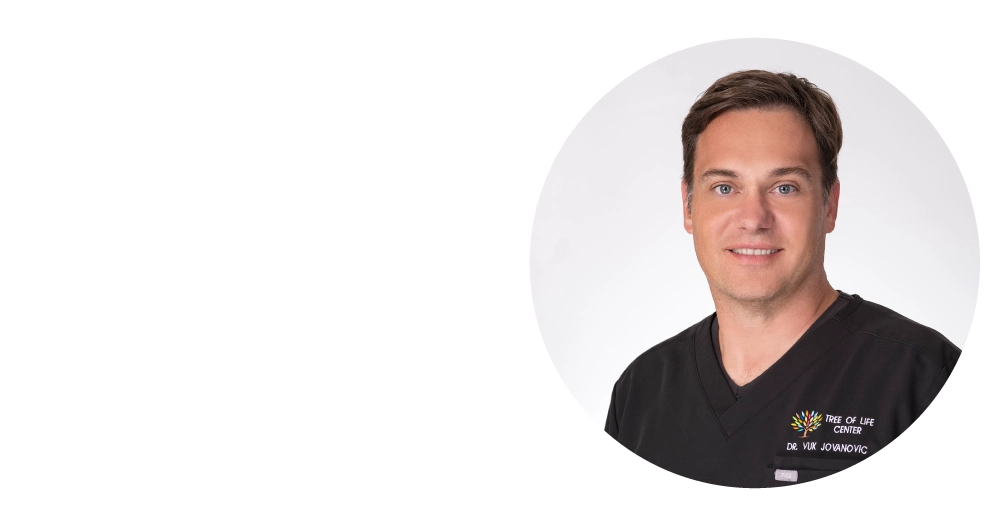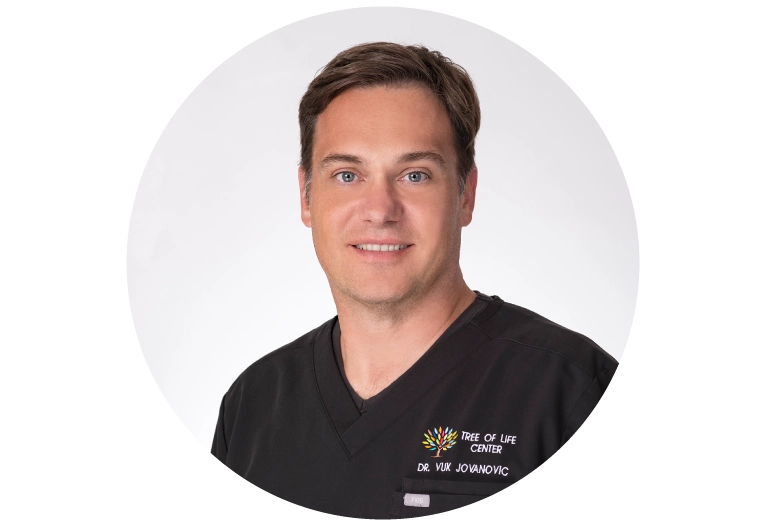 Vom American Board of Obstetrics and Gynecology zertifizierter Facharzt für reproduktive Endokrinologie und Unfruchtbarkeit
Dr. Vuk Jovanovic schloss 2010 seine Stipendienausbildung in Reproduktiver Endokrinologie und Unfruchtbarkeit an der Columbia University in New York City und 2007 seine Facharztausbildung in Geburtshilfe und Gynäkologie an der Duke University in North Carolina ab. In den Vereinigten Staaten gehören diese beiden Programme zu den häufigsten kompetitive postgraduale Weiterbildungsprogramme, und nur einer ausgewählten Gruppe von Ärzten gelingt es, sich die Ausbildungsplätze zu sichern.
Während seines Stipendiums in New York besuchte Dr. Jovanovic auch die Mailman School of Public Health. Dr. Jovanovic schloss 2003 sein Medizinstudium in Deutschland an der Johannes Gutenberg-Universität in Mainz ab. Während seines Medizinstudiums absolvierte er ein Forschungssemester an der University of Pennsylvania (UPENN) in Philadelphia mit dem Schwerpunkt Gentherapie. Außerdem erhielt er ein Stipendium und nahm am Sommerforschungsprogramm der City of Hope in Duarte, Kalifornien, teil. Er war Austauschstudent an der Harvard University, der University of Texas, dem Baylor College of Medicine und der University of California San Diego. In seinen frühen Studienjahren verbrachte er einige Zeit am Imperial College of Medicine im Vereinigten Königreich.
Dr. Jovanovic ist vom American Board of Obstetrics and Gynecology und in Deutschland in den Fächern Geburtshilfe & Gynäkologie und Reproduktive Endokrinologie doppelt zertifiziert. Er ist medizinischer Direktor des Tree of Life Center for Assisted Reproduction in Tarzana, Kalifornien, und der California Fertility Clinic in Los Angeles. Er ist ein multinationaler Arzt, der in mehreren Ländern ausgebildet und gearbeitet hat und Patienten aus der ganzen Welt behandelt hat. Durch seine Erfahrungen als Anbieter von Fruchtbarkeitspflege in verschiedenen Ländern bei gleichzeitiger Verwendung eines erweiterten Repertoires an Fruchtbarkeitsmedikamenten (einige davon noch nicht in den USA vermarktet) machte Dr. Jovanovic zu einem schwer zu übertreffenden Experten. Er hat Tausende von IVF-Zyklen in den Vereinigten Staaten und Europa durchgeführt. Er spricht Deutsch, Serbisch und Russisch. Er ist in den Vereinigten Staaten, Großbritannien, Deutschland und Spanien zum Praktizieren von Medizin zugelassen. Er ist gut vernetzt in Deutschland, Russland, Japan, Indien, Thailand, Israel und China. Aufgrund seines Interesses an der Reproduktion durch Dritte und seiner Liebe zu Kalifornien entschied er sich, sich in Los Angeles niederzulassen. Das multikulturelle Umfeld in Los Angeles passt zu seiner Persönlichkeit und ermöglicht den vollen Leistungsumfang, einschließlich Eizellspende und Leihmutterschaft. Nach seinem Umzug nach Los Angeles arbeitete Dr. Jovanovic am Center for Fertility and Gynecology unter Dr. Michael Vermesh. Letzterer ist ein berühmter Fruchtbarkeitsspezialist in Los Angeles und betreibt seit über 30 Jahren eine private Fruchtbarkeitspraxis. Viele andere erfolgreiche Fruchtbarkeitsspezialisten wie Dr. Snunit Ben-Ozer, Dr. Eliran Mor und Dr. Nurit Winkler und Dr. Marc Kalan begannen ihre Karriere in Los Angeles bei Dr. Vermesh. Nachdem er die notwendige Erfahrung gesammelt hatte, um sich in der Fruchtbarkeitslandschaft in Südkalifornien zurechtzufinden, übernahm Dr. Jovanovic die Position des medizinischen Direktors im Tree of Life Center von Dr. Ben-Ozer. Dr. Jovanovic ist der Gründer des Kinderwunschzentrums Los Angeles und Pacific Surrogacy and Egg Donation.
Es ist keine Überraschung, dass Dr. Jovanovic zu den besten Fruchtbarkeitsärzten in Los Angeles gehört. Neben der Bereitstellung von Dienstleistungen in Südkalifornien reisen viele Patienten aus der ganzen Welt an, um seine Expertise als Anbieter von Reproduktionsmedizin zu suchen. Unabhängig davon, wohin Sie kommen, können Sie nur die höchste Qualität der Pflege erwarten.
Dr. Jovanovic ist Mitglied der American Society of Reproductive Medicine (ASRM) und der European Society for Human Reproduction and Embryology (ESHRE) und nimmt aktiv an Tagungen auf beiden Kontinenten teil. Wir freuen uns immer darauf, mit Fruchtbarkeitszentren weltweit in Kontakt zu treten und bei der Bereitstellung einer nahtlosen Versorgung zusammenzuarbeiten.
Neben seinem Fachwissen und seinen hervorragenden Erfolgsquoten wird er jeden einzelnen Kunden mitfühlend und persönlich betreuen. Er hat zahlreichen Paaren in den Vereinigten Staaten und auf der ganzen Welt geholfen, den Traum der Elternschaft zu verwirklichen, und freut sich, seinen Patienten in Südkalifornien und darüber hinaus zu dienen.
Bitte kontaktieren Sie uns, nutzen Sie hierfür zur Terminvereinbarung das unten stehende Formular oder kontaktieren Sie uns direkt.
Wir bieten auch Zoom- und Telefonberatungen an, wählen Sie selbst.
VERÖFFENTLICHUNGEN
Intraovarian regulation of gonadotropin-dependent folliculogenesis depends on notch receptor signaling pathways, not involving Delta-like ligand 4 (Dll4).
Jovanovic VP, Sauer CM, Shawber CJ, Gomez R, Wang X, Sauer MV, Kitajewski J, Zimmermann RC.
Reproductive Biology & Endocrinology. 2013 May 15;11:43.
Laparoscopic Management of Ovarian Entrapment: A Rare Complication of IVF
Nakhuda GS, Jovanovic V, Sauer MV.
Journal of Gynecologic Surgery. 2012 Apr;28(2):136-137.
Does the addition of clomiphene citrate or letrozole to gonadotropin treatment enhance the oocyte yield in poor responders undergoing IVF?
Jovanovic VP, Kort DH, Guarnaccia MM, Sauer MV, Lobo RA.
Journal of Assisted Reproduction and Genetics. 2011 Nov;28(11):1067-72.
Not all women diagnosed with PCOS share the same cardiovascular risk profiles.
Jovanovic VP, Carmina E, Lobo RA
Fertility and Sterility. 2010 Aug;94(3):826-32.
Providing fertility care to men seropositive for human immunodeficiency virus: reviewing 10 years of experience and 420 consecutive cycles of in vitro fertilization and intracytoplasmic sperm injection.
Sauer MV, Wang JG, Douglas NC, Nakhuda GS, Vardhana P, Jovanovic V, Guarnaccia MM.
Fertility and Sterility. 2009 Jun;91(6):2455-60.
Ectopic pregnancy in a preexisting hydrosalpinx during a spontaneous pregnancy.
Garde RV, Jovanovic VP, Couchman GM, Walmer DK, Price TM.
Fertility and Sterility. 2006 Oct;86(4):1001.e11-3.
Adenovirus-mediated gene transfer of enhanced Herpes simplex virus thymidine kinase mutants improves prodrug-mediated tumor cell killing.
Wiewrodt R, Amin K, Kiefer M, Jovanovic VP, Kapoor V, Force S, Chang M, Lanuti M, Black ME, Kaiser LR, Albelda SM.
Cancer Gene Therapy. 2003 May;10(5):353-64.
An E2F-responsive replication-selective adenovirus targeted to the defective cell cycle in cancer cells: potent antitumoral efficacy but no toxicity to normal cell.
Tsukuda K, Wiewrodt R, Molnar-Kimber K, Jovanovic VP, Amin KM.
Cancer Research. 2002 Jun 15;62(12):3438-47.
PRÄSENTATIONEN
"The Potential of mild stimulation IVF in Germany"
Vuk P Jovanovic
SAFE International ART Congress, Phuket, Thailand, May 14-16th, 2014
"GnRH antagonist vs. long GnRH agonist gonadotropin protocols in PCOS women undergoing controlled ovarian hyperstimulation"
Vuk P Jovanovic
World Congress on Ovulation Induction and Ovarian Stimulation Protocols, Goa, India,
September 12-15th, 2012
"A Notch Ectodomain Construct Inhibits Gonadotropin-Dependent Follicle Growth to the preovulatory stage"
Vuk P Jovanovic, M Sauer, Shawber J Kerry, Xing Wang, Mark V Sauer, Jan Kitajewski, Ralf C Zimmerman
Society of Gynecologic Investigation Annual Meeting, Orlando, FL, March 24-27, 2010
"Posthumous reproduction and gamete retrieval in near death situations – an analysis of the couple's perspective"
Nakhuda GS, Vuk P Jovanovic, Sauer V. Marc,
American Society of Reproductive Medicine, Atlanta, GA, October 17-21, 2009
"Baseline Levels of DHEA-S Levels do not correlate with Ovarian Responses in Women undergoing IVF treatment"
Vuk P Jovanovic, Michel Ferin, Michael M. Guarnaccia, Mark V. Sauer, Rogerio A Lobo
Society of Gynecologic Investigation Annual Meeting, Glasgow UK, March 17-21, 2009
"Differences in Body Composition in Different Phenotypes of Women with PCOS and in idiopathic Hyperandrogenism, and Correlations with Androgen and Insulin"
Vuk P Jovanovic, Enrico Carmina, F de Nicola, Giovam B Rini, Rogerio A Lobo
Society of Gynecologic Investigation Annual Meeting, Glasgow UK; March 17-21, 2009
"Does the addition of Clomiphene Citrate or Letrozole to gonadotropin treatment enhance the oocyte yield in poor responders undergoing antagonist IVF cycles"
Vuk P Jovanovic, Michael M. Guarnaccia, Daniel H. Kort, Mark V. Sauer, Rogerio A. Lobo
American Society of Reproductive Medicine, San Francisco, CA; November 8-12, 2008
"A Novel Recombinant hCG-Antagonist Inhibits Pro-Invasive Gene Expression in the JEG-3 Choriocarcinoma Cell Line"
Vuk P Jovanovic Drew V Tortoriello, Prati A Vardhana, Martin A Julius, Susan V Pollak, Joyce W Lustbader
Society of Gynecologic Investigation Annual Meeting, San Diego, CA March
"An hCG-Antagonist Represents a Novel Contraceptive Agent"
Pratibhasri A Vardhana, Martin A Julius, Susan V Pollak, Rhonda K Trousdale, Vuk P Jovanovic, Joyce W Lustbader
Society of Gynecologic Investigation Annual Meeting, San Diego, CA March 26-29 2008
"Improved Prodrug-Mediated Thoracic Tumor Cell Killing with an Adenovirus Carrying Herpes Simplex Thymidine Kinase (HSV-TK) Gene Mutants"
Rainer Wiewrodt, Kunjilata Amin, Michael Kiefer, Vuk P Jovanovic, Veena Kapoor, Margaret E.
Black, Larry R. Kaiser, Steven M. Albelda
The 5th Annual Meeting of the American Society of Gene Therapy, Boston, June 5-9 2002
"In vitro Differentiation of Mouse Embryonic Stem Cells into Pancreatic Islet Similar Structure – A Primary Study"
Guoxiang Zhang, Vuk P Jovanovic, Theodore G. Krontiris
City of Hope NCI Summer Research Presentations, Duarte, CA, July 2002
Kontaktiere uns
San Fernando Valley:
18370 Burbank Blvd. Suite 511
Tarzana, CA 91356, USA
Telefon: +1 (818) 344-8522
Miracle Mile:
5455 Wilshire Blvd. Suite 1904
Los Angeles, CA 90036, USA
Telefon: +1 (323) 525-3377
Canyon Country:
26615 Bouquet Canyon Rd Suite #1
Santa Clarita, CA 91350, USA
Telefon: +1 (818) 344-8522